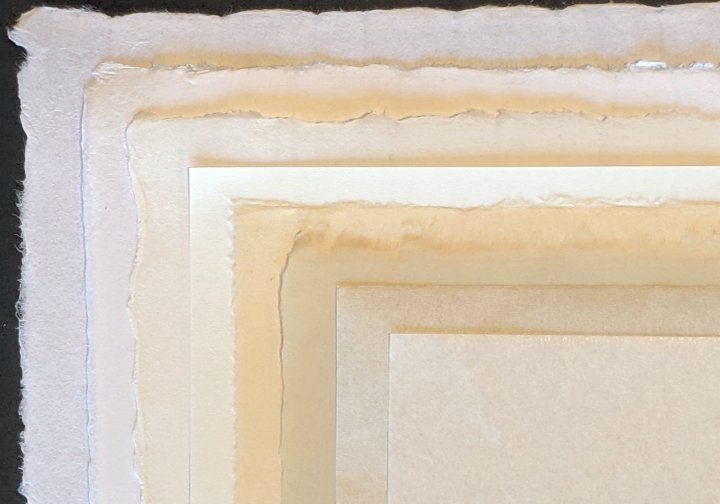 Group D Washi Paper
Diverse Papers - left to right:
Hosho Student, Hosho Professional, Mulberry, Bamboo, Kitakata Natural, Kitakata Green, Yamashiro, Usu Mino
Paper colors will depend on your monitor. To see accurate colors, we recommend a Washi Sample Book.
In this case, "D" stands for Diversity! These papers are mostly unsized, and have diverse fiber content. They range from pH 6.5 to pH 7.5 (pH 7 is acid free). Suitable for a variety of uses, these papers can be used with oil or water based ink, for printmaking, wood engraving, painting, lithography, Gyotaku (fish prints), and chine colle.
Different printing papers can be combined to qualify for the quantity discounts.
Paper is shipped rolled. If you prefer that we ship it flat, tell us in the box marked "Special Instructions" in the Shopping Cart. With few exceptions, shipping fees will be substantially higher because of the size of the package. Please let us know if you would like to know these fees before we ship.
Group D Washi
Bamboo - Warm White 27.5" x 39.375"

This smooth paper works well for techniques using oil-based inks, including engraving, letterpress or woodcuts and linocuts. It also works for Moku Hanga but it may not dry flat after being wet, especially large sheets. Would work well for proofing. Acid free, neutral pH, with a very slightly textured surface. A very useful paper for a very reasonable price.

Unsized, machine made (no deckle)

P7004
Sized?
gm/ sqM
Fiber content
1-24 sheets
25-49 sheets
50+ sheets
no
105
90% bamboo, 10% cotton
$2.70
$2.57
$2.43
Usu Mino - Off-White 21.5" x 31"

A very thin, lightweight mending tissue that can be used for tracing as well as transferring printed images from the key block to color blocks.

Sized, machine made (no deckle)

P6951
Sized?
gm/ sqM
Fiber content
1-24 sheets
25-49 sheets
50+ sheets
yes
25
70% mitsumata, 30% acid free wood pulp
$2.95
$2.80
$2.66
Yamashiro - Natural 25" x 37"

A fine, very lightweight paper. Yamashiro has slightly more body than Usu Mino (P6951) and in physical size is about 30% larger. Intended for use as a mending tissue, Yamashiro can also be used for tracing, transferring printed images from the key block to color blocks, and for chine collé.

Sized, probably machine made (no deckle)

P6952
Sized?
gm/ sqM
Fiber content
1-24 sheets
25-49 sheets
50+ sheets
yes
25
unknown
$6.95
$6.60
$6.26
Kitakata - Natural 16" x 20"

This warm, natural-colored, strong 100% gampi paper is excellent for relief printmaking, including wood engraving. Its smooth surface and weight also make it ideal for book arts.

Unsized, handmade (three deckle edges, one torn edge)

P6953
Sized?
gm/ sqM
Fiber content
1-24 sheets
25-49 sheets
50+ sheets
no
30
Gampi (acid free)
$3.50
$3.33
$3.15
Kitakata - Green 16" x 20"

A soft, gray-green that is striking printed with black or cool colored inks.

Unsized, handmade (three deckle edges, one torn edge)

P6957
Sized?
gm/ sqM
Fiber content
1-24 sheets
25-49 sheets
50+ sheets
no
30
Gampi (acid free)
$3.50
$3.33
$3.15
Mulberry - Warm White 24" x 33.5"

A fine textured, soft, naturally warm colored paper. Mulberry papers are long fibered and strong. This popular relief printmaking paper is also in demand for sumi painting, calligraphy, lithography, book arts and chine colle. It has excellent wet strength.

Unsized, handmade (four deckle edges)

P6954
Sized?
gm/ sqM
Fiber content
1-24 sheets
25-49 sheets
50+ sheets
no
45
30% Kozo and 70% acid free pulp
$7.45
$7.08
$6.71
Hosho - White (professional grade) 19" x 24"

A very white handmade paper with a subtle laid line, known for its thick, fluffy texture and strength. Hosho resists shrinking very well and is very absorbent, making it quite suitable for printing with oil based inks. Masa Dosa (P6903) is very similar in weight and is recommended when using water-based ink because it is sized and Hosho is not.

Unsized, handmade (four deckle edges)

P7005
Sized?
gm/ sqM
Fiber content
1-24 sheets
25-49 sheets
50+ sheets
no
60
100% Sulphite Pulp
$4.62
$4.39
$4.16
Hosho - White (student grade) 18" x 22"

Hosho Student has a slightly softer surface and a bit more texture compared to Hosho Professional.

P7006
Sized?
gm/ sqM
Fiber content
1-24 sheets
25-49 sheets
50+ sheets
no
95
100% Sulphite Pulp
$3.05
$2.90
$2.75