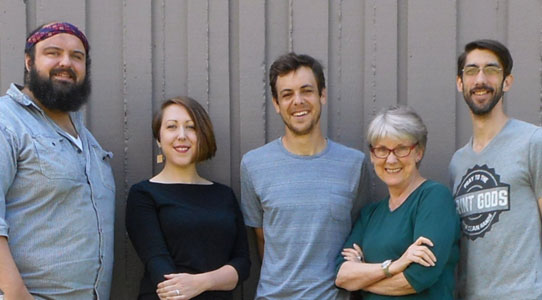 Andrew, Ally, Josh, Alex and Daniel
Art Historian Robert "Bob" McClain and his wife, University of Oregon Professor of Japanese Language and Literature Dr. Yoko McClain, would visit printmakers and collect original prints during their trips to Japan, then sell the prints when they returned home. Over time Bob became interested in learning how to make woodblock prints himself and studied with Junichiro Sekino. In the late 1970's he realized he could create a business importing and selling printmaking supplies from Japan and in 1979 published his first price list. During the 1980's Robert McClain Japanese Prints & Supplies quickly became recognized as the leading supplier of superior quality art materials for moku hanga (Japanese style woodblock) in the U.S.
In 1991, after Bob McClain's death, Elaine Chandler purchased the supply business. Elaine renamed it McClain's Printmaking Supplies in honor of its founder. A well known and respected printmaker herself, Elaine taught moku hanga workshops and promoted Japanese tools and materials to other instructors and schools around the country. Elaine also expanded McClain's to include materials for other forms of relief printmaking, including linoleum and wood engraving supplies.
In February 2001, Elaine sold McClain's to Alex Prentiss, her former moku hanga student. Alex's background is in library science, retail sales, and technical writing and illustrating. On the art side, she is an experienced letterpress printer, book artist and woodblock printmaker.
McClain's staff includes Alix "Ally" Stinnett, who joined McClain's in May, 2011. Ally attended Central Washington University where she majored in both Sociology and Studio Art. She first got excited about printmaking while taking a class at Oregon State University and enjoys doing moku hanga prints. Ally is in charge of McClain's Newsletter, as well as our Instagram and Facebook pages.
In October 2014 Daniel Jasa joined McClain's. Daniel has an MFA in Printmaking from Northern Illinois University and an undergraduate degree from the Pacific Northwest College of Art (PNCA) in Oregon. He is a Print Arts Northwest (PAN) board member and is actively involved with the printmaking studio Atelier Meridian, where he hosts a weekly open studio session and occasionally teaches workshops. His work is currently on display the Portland Art Museum's Rental Sales Gallery. You can also view Daniel's work at danieljasa.com.
Andrew Lorish is a native Oregonian who came on board in December 2015. Andrew's background is in printmaking and painting. He received his BFA at the School of the Art Institute of Chicago and MFA in Visual Studies from Pacific Northwest College of Art. Andrew is an active artist in the Portland area and a talented musician. He brings extensive knowledge in a variety of artistic mediums, a profound interest in learning everything woodblock, and an all-around positive and fun energy to McClain's. Check out Andrew's artist portfolio at acmlorish.com.
In addition to teaching printmaking at Portland State University and Portland Community College, Josh Hulst helps out part-time at McClain's. With an MFA in printmaking from the University of Oregon, Josh is an expert in all areas of printmaking and will happily and skillfully answer your questions about technique and supplies. His work can be seen at joshhulst.com.
Under Alex's leadership, McClain's continues to offer the high quality service, tools and printmaking materials that have made it the leading supplier for relief printmakers both here and abroad for almost 40 years. Our purpose is to help relief printmakers find the materials and support they need to reach their printmaking goals.
Thank you for your support!