Overstocks, slow sellers or lightly damaged printmaking supplies looking for a good home.
No other discounts apply. Quantities are limited. All sales are final.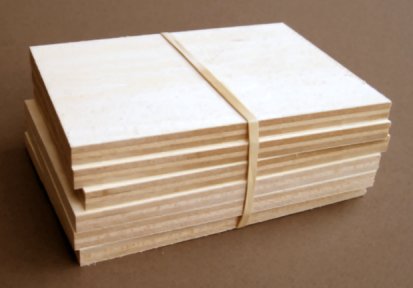 5 3/4" x 7 15/16" (14.5 x 20.2cm) Shina Blocks, 10% off Packs of 6
When we cut down sheets of plywood, we end up with blocks that are not quite 6" x 8". The normal discount for 12 or more Shina blocks is 5% so if you can use a slightly smaller size, 10% off is a good deal! Sold in packs of six only.
Professional Dosa Bake: discontinued, 10% discount
The light, fine-grained wood handle is protected with a water-proof coating applied next to the dense, highest quality sheep hair. Discontinued design.
Width: 1.125" (30cm), length: 12½" (31.5cm)
The new design for Professional Japanese Dosa Bake can be found here.
ALL SALES ARE FINAL.
No exceptions.