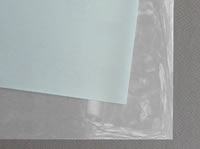 Matte side on top of shiny side
Polyfilm Tracing Paper
One side of Polyfilm is matte and the other is smooth and shiny. Trace your drawing onto the matte side, which takes and holds graphite or ink very well. Flip the Polyfilm over, place it down on carbon paper and trace the image, transferring it to the block.
According to the manufacturer, Polyfilm is also laser printable on many black & white plain paper copiers and laser printers.
Because one side is matte and the other side is shiny, you won't get confused about which side should be down, especially when you are tracing the image onto several blocks.
Polyfilm can be erased or cleaned with a Mr. Clean Magic Eraser and re-used.
Unlike regular tracing paper, Polyfilm is waterproof and it will not tear. It is also completely transparent.
Imported from Japan.
Polyfilm Tracing Paper