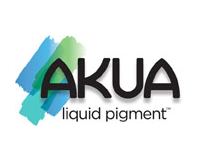 Akua Liquid Pigment
(formerly Akua Kolor)
Designed for monotypes and monoprints, excellent for Moku Hanga (Japanese style printmaking). All the Akua Liquid Pigments are available in 4oz bottles (about 1/2 cup). They are heavily pigmented.
Several ink modifiers are available. To extend the ink or make it more transparent, add Extender, which is the base for Akua Liquid Pigment. To thicken it, either allow it to air-dry on a glass slab or in shallow bowls, or add Tack Thickener. Blending Medium can be used as a resist or to create wash effects on monotype plates. Retarder slows the drying rate and can be used as a release coat on monotype plates.
Release Agent was created specifically as a release coat when doing additive monotype brushwork and hand-printing with either a PinPress or a Baren. Roll Release Agent over the entire block before adding ink. It is also used for making ghost prints. A ghost print is the second print from a monotype plate that has been inked and printed once. It is a lighter version of the same image. By rolling Release Agent over the plate, it helps to transfer the remaining ink off the plate and onto another sheet of paper.
The colors shown below may be affected by your monitor settings and are intended to be used as a guide only.
Shipping Weight: 0.6 lb each
Akua Liquid Pigment is also available in discounted Sets. Please see the list under "Akua Liquid Pigment" in the left-hand column.
Akua Liquid Pigment
You might also consider