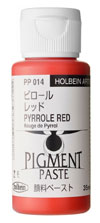 Holbein Paste Pigments
Available in 35ml (1.18fl.oz.) bottles. These pure pigments are a non-toxic, labeled and approved product conforming to ASTMD-4236.
The colors shown below may be affected by your monitor settings and are intended to be used as a guide only.
Also available in discounted Sets. Please see the list under "Holbein Paste Pigments" in the center column to the left.
Holbein Paste Pigments
Lightfastness varies depending on the pigment
** indicates lightfastness of 60 years before a shift in color can be detected
*** indicates lightfastness of 90 years
**** indicates a permanent color