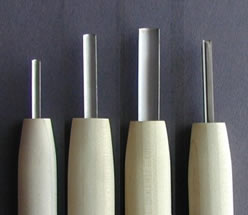 Namisei Original Four Tool Set  
Save 5%
Maru To 3.0 mm
Maru To 4.5 mm
Maru To 7.5mm
Sankaku To 3.0mm
The Sankaku To (v-gouge) is used to outline or create very thin lines; Maru To (u-gouges) can be used to create texture or clear away unwanted wood.
Comes wrapped in bamboo carrier.
MAKE UP YOUR OWN SET AND SAVE!
Purchase any 4 or 5 Namisei Moku Hanga To and get a 5% discount.
Purchase any 6 or more and get a 10% discount.
Discounts only apply to Namisei Moku Hanga To. To qualify for the discounted price, all tools must be ordered at the same time. The discount is figured automatically when you place your order.
5% Discount
If purchased individually, the price would be $67.10.
4.5mm Maru To is out of stock. If you order this Set, we will send three tools now and the 4.5mm Maru To will placed on backorder and shipped in March or April when more tools arrive from Japan. If you prefer, we can substitute a 6.0mm Maru To for the 4.5mm with no change in the price for the Set. If you would like to do this, please let us know in the box labeled "Special Instructions" on the second page of the shopping cart and we will make the substitution.
You might also consider