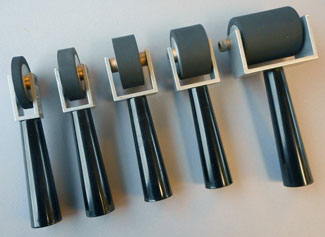 Takach Specialty Brayers
These are the highest-quality narrow brayers available. Like the Takach Hand Brayers, Specialty Brayers are made with high quality nitrile rubber wrapped on an aluminum metal core. They are 1.75" in diameter and made with 35 durometer (medium hard) rubber. The 2" Brayer also comes in harder 60 durometer rubber. The roller is placed into a sturdy metal frame with self-lubricating bearings for extended service and easy rolling. These brayers meet the demands of students and professional printmakers alike.
Monotype printmakers love them for adding lines to their images. Or use them to ink up just a small area of a wood or linoleum block.
Takach Specialty Brayers
You might also consider