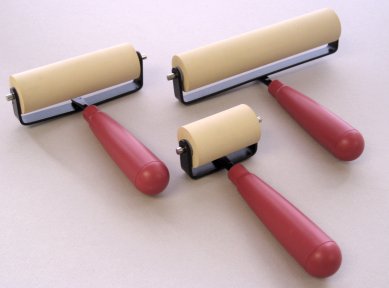 Speedball Deluxe Soft Rubber Brayers
Speedball Brayers are inexpensive soft rubber brayers. The metal frame and comfortable plastic handle make this brayer a favorite of teachers and printmakers on a budget. The 1 1/8" diameter roller rolls out a little over 3 1/2" of ink. Use with water or oil based ink.
Soy oil may make this roller sticky; try dusting with cornstarch or talc after cleaning if this happens. Store away from UV light. Made in the U.S.
Speedball Deluxe Soft Rubber Brayers
*Currently out of stock. More should arrive in mid- to late-January, 2022. If you order one of these brayers, it will be placed on backorder and shipped as soon as possible. You will not be charged until we ship it and there is no additional shipping charged on backorders shipped within the U.S. Thank you for your patience.
You might also consider