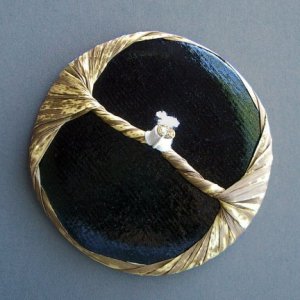 8-ko Hon Baren
Premium Hon Baren
A Hon (genuine or real) Baren is the ultimate tool for the Moku Hanga (Japanese style) printmaker. Versatile, responsive, durable, and made with exquisite craftsmanship, Hon Baren make the work of printing go easily and smoothly. The qualities of a Hon Baren may seem subtle, but once experienced these baren are clearly superior. And while they may seem expensive, remember that each baren requires up to a year of intensive labor to create, requiring the skill of a true master craftsman. And they are still much less expensive than a western printing press.
The 8-ko (strand) baren is the most versatile, although 12-ko and 16-ko are also available. Traditionally, 12 and 16-ko baren are used for printing large areas with thick pigment.
The shin (coil) of an 8-ko (strand) Baren
The 8-ko baren are available in three basic textures: coarse, medium and fine. The coarse baren is useful for broad, flat areas in large prints, especially with heavy papers. The medium baren is probably the most versatile and is adaptable to many printing styles. The fine baren requires a lighter touch and is for printing fine lines or small areas on thin papers.
SPECIAL ORDER ONLY. Depending on the exchange rate, prices start at around $1,000.00. Please call or email mail@imcclains.com for current prices. After placing your order, our price is guaranteed.
The correct price will not be displayed in the shopping cart. The cart server shows a price of "$1.00" for these Baren; this is only a place holder number. When you place your order, you agree to pay the price that was quoted to you. This amount will be added to your order when it is received at McClain's.
Please allow 3 to 6 months for delivery. You will be charged for the Baren plus shipping from McClain's to you when you place the order. Once the order has been placed with the craftsman in Japan, there are no returns or refunds.
Premium Hon Baren
12 Ko and 16 Ko Hon Baren are also available.