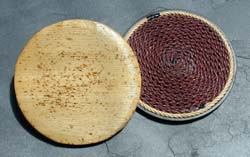 Murasaki Baren
This beautiful, less expensive version of the Hon Baren was created with affordability in mind. It is produced in the studio of a Tokyo baren maker who also makes the traditional twisted bamboo fiber core or Hon (genuine) Baren.
The core of this baren is a hard, hand-twisted synthetic cord that efficiently transfers pressure from your arm to the block.
The medium baren is designed for use on softer, lighter weight papers and for printing details. The coarse baren is designed for printing on thicker, heavier papers and large, flat areas of ink.
We have had very positive feedback about the Murasaki Baren from professional printmakers who feel the performance is very close to that of their Hon Baren. Highly recommended.
A free sample of Camellia Oil is included.
Available for immediate shipping.
Shipping weight: 0.4 lb each
*Currently out of stock. More should arrive in December, 2018. If you order one of these baren, it will be placed on backorder and shipped as soon as possible. You will not be charged until we ship it and there is no additional shipping charged on backorders shipped within the U.S. Thank you for your patience.