2018 Catalog Cover Artist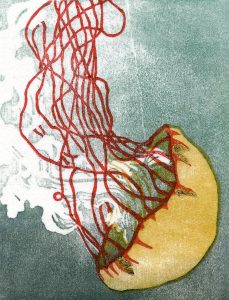 Flow by Kristen Etmund is a small print that had a big impact on everyone here at McClain's. Etmund is a Northwest artist residing in the scenic Olympia, WA. Her art is represented at Childhood's End Gallery (link to Kristen's specific page on gallery website) as well as on her personal Etsy site 13chestnuts.com.
Kirsten told us she was "Initially attracted to woodblock printing because of the connection to my Japanese heritage, I've continued with the relief medium because it is a rare combination of craft and art. Though time-consuming, I find the methodical processes of carving and printing, which have remained much the same for centuries, rewarding and enjoyable. Even though the creation of a woodblock print requires much planning and thought, the finished piece always has an element of surprise."
SGCI Vegas – Altered Landscapes
Spring is here and so is the Southern Graphics Conference International (SGCI). This time Daniel, Andrew and Kaitlyn will be at the McClain's booth in the glittery, desert city of Las Vegas. SGCI is a unique gathering that brings together printmakers for demonstrations, portfolio exhibitions, and lectures on all things printmaking. It is held in a different location every year. Altered Landscapes (link) is the 2018 theme that "will capture the spirit of Las Vegas's perpetual reinvention and the fallacy of its promises." – (from the SGCI Altered Landscapes official website)
Visit McClain's booth for moku hanga and tool sharpening demonstrations. We will have tools there to test out as well as McClain's gift certificates for $25, $50, and $100 hidden inside four show specials! Be sure to come by and try your luck. See you in Vegas!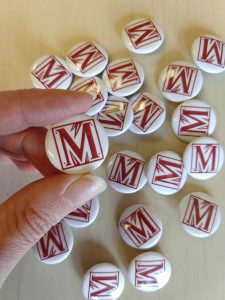 Button, button, who's got the button?
During the month of May McClain's will be including a complimentary McClain's logo button in every order. We take these little 1" buttons to SGCI and the Mid-America Print Council (MAPC) conferences each year and they are very popular. Each button will be attached to a card with a printmaking tip or historical bit of information related to moku hanga. Show off your beautiful McClain's button on your apron, jacket, dog's collar, backpack…you name it! We hope you enjoy them.
Also, we're building a hashtag!  Help us go viral as you tag yourself with a McClain's button and make our community stronger – #mcclainsprintmaking