Holbein Pure Paste Pigments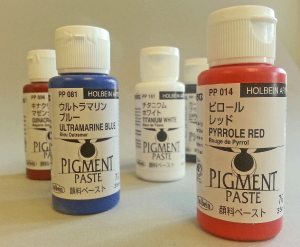 McClain's is very pleased to announce that Holbein Pure Paste Pigments, our newest water-based ink, are now available. Developed to resemble the palette used for 18th and 19th century Japanese Ukiyo-e prints, this line of paste pigments contain pure color pigments suspended in a base of water, wetting agent and dispersant. These inks are highly concentrated so a little goes a long way. Add water to reach the desired tint or to adjust the transparency. Please note that Holbein Pure Paste Pigments are nonreversible, so be sure to wash all of your brushes right away.
All Holbein Pure Paste Pigments come in 35ml (1.18fl.oz.) bottles and are available in individual colors as well as in an Introductory and Professional Set
We asked Moku Hanga artist Mary Brodbeck to tell us about her experience with Holbein Pure Paste Pigments and this is what she had to say:
"I just completed my first print using the Holbein Artist Pigment Paste and am very pleased with the results.  I used imidazolone yellow, ultramarine blue and sumi ink for my first trial. These Holbein Artist Paste Pigments are just like using water colors except that the colors are more vibrant! The ultramarine blue was transparent, layered nicely with sumi, and creating bokashi (with rice paste) was a cinch. 
I followed McClain's advice about making sure to rinse out my brushes immediately after use. I generally use water color paint from tubes so was used to those quantities. It's therefore no surprise that I mixed more than I needed – because it's more intense, you don't need as much. Being conservative with these pigments will be a challenge in the future."
New Book!
Linocut for Artists and Designers written by long-time linocut artist, teacher and blogger Nick Morley, this instructional book gives you the basics and then goes on to explore many creative ways to do linocut. Excellent full color illustrations and photos show every step of each process described. This book is a useful guide for woodcut artists as well as those interested in linocut.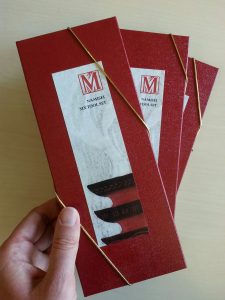 New Look!
Our beloved Namisei Six Tool Set box got a make-over recently featuring the print "Udon" by Alex Prentiss, owner of McClain's Printmaking Supplies. We are really happy with how it turned out and wanted to show it off.
Sharpening Workshop at Atelier Meridian
Bring your tools and join Daniel Jasa for an afternoon of sharpening at Atelier Meridian  in Portland, Oregon. Learn about maintaining your wood carving tools using natural stones, electric sharpening wheels, and leather honing blocks.
Date: Saturday, December 9th from 10am to 1:30 pm | Cost: $40
Sale Items
Just in time for the Holiday season, perhaps for that special printmaker in your life (or what the heck, treat yourself!), we have added several gems to the McClain's Sale Page. Please note that all sale items are final.